Updates from Letty – January 8, 2021
Blog posts are the personal views of Letty Hardi and not official statements or records on behalf of the Falls Church City Council
Happy new year, friends –
While I've been privately metering my expectations for 2021, I had hoped my first post of the year would start on a more positive note. Before getting to city business – which there is much to share (the latest on COVID, vaccinations, changes to the West Falls Church project and a town hall at lunchtime today) – it would be impossible for me to ignore the horrific events in our backyard this week.
Like you, I am appalled by the attempted coup and attack on our democracy. I hope we collectively hold accountable the domestic terrorists who stormed the US Capitol and the leaders who sided, excused, enabled, or inspired the insurrection. It's a shameful, but in some ways not surprising, end to the four dark and exhausting years of this presidency. Moreover, I am not the only one to note the glaring double standard: there was a stark difference in the response to Wednesday's violent insurrection compared to last summer's largely peaceful and Constitutionally-protected protests for Black Lives Matter. I would hope this is clear proof of white privilege for anyone who has doubted its existence. My 8 year old, who after remarking "wow, there are a lot of dummies," noted that it was "weird to see grown-ups have a big tantrum and the police not doing anything about it."
Even after January 20th, I don't expect a change in national leadership will be the antidote. I believe Wednesday's events are only the latest symptom of systemic oppression and the lack of shared obligation for racial, economic, and gender equity and justice. That obligation starts at the bottoms up, with us as individuals and as a community. For those with privilege, we have a role to play in extending compassion, dismantling the system, and challenging where we ourselves may be complicit. Anti-racist books and yard signs are meaningless unless we live what we learn and prioritize our time and dollars over personal comfort in our own communities.
For fellow parents, I realize finding ways to have age-appropriate conversations with your kids this week has been tough (this and this helped me, the latter especially for media literacy). After you've taken a deep breath, I hope you take away the reminder that it's not only important to have these discussions at the dinner table, but also ask ourselves who is at my table. Our kids are watching and need us to do better.

We hit a new record high of daily COVID deaths this week, so we are far from out of the woods on other fronts. I remain hopeful that with hard work, resolve, and vaccines, better days are coming. Keep wearing those masks (now recommended indoors and outdoors) and social distancing, and hang in there.
Take care,
Letty
What Happened This Week:
(1) COVID Update
Our regional and local COVID-19 positivity rates are at some of the highest levels ever, so all eyes are on the vaccine rollout that began in December. Currently Virginia is in Phase 1a right now, which prioritizes health care workers and long term care facilities residents and staff.
Per Governor Northam's press conference this week, he expects Phase 1b to begin at the end of January, which will target front line essential workers like police, teachers, childcare staff, grocery workers, and people over 75. Phase 1c will include other essential workers, people 65-74, and people 16-64 with high risk conditions. Note: because there is not yet sufficient supply to vaccinate everyone in Phase 1b or 1c at the same time, the links above contain the Virginia Department of Health's planning priority order within groups. Governor Northam did cite a goal to have all Virginians vaccinated by this summer.
(2) West Falls Church Project
Everyone has been holding their breath, anticipating the economic fallout of COVID. We're seeing some small businesses shutter with some barely hanging on. Unemployment and city budget aside, most expect the economy and certain sectors like office, retail, and hospitality to permanently change. As such, we're now seeing impact to economic development. Right before our winter recess, we discussed developer-requested changes to the West Falls Church project, aka the 10 acre project next to the new high school. which we weren't able to discuss publicly while negotiations were underway up until our last December meeting. The developers are requesting several changes to the financial terms to keep the project viable.
Because there was so much public engagement prior to the 2017 referendum on how we'd finance the $120M new school – we want to make sure the community has the opportunity to understand the proposed changes and ask questions before City Council votes on the amendments. We have the second Town Hall today (Friday, January 8) at noon to share these changes with the community if you'd like to tune in to listen or ask questions. If you can't make it today, the recording from the December Town Hall and summary slides are available, and I'll offer you my thoughts below.
If you have comments, you can send in public comment via email or sign up to speak at Monday's virtual meeting.
The TL;DR version:
There is less money upfront for the city
More money on the backend through profit sharing
A small delay in the schedule, still 2024 project delivery
Developer has strong belief that the diverse mix of uses is important to create a vibrant, successful project – so there are no changes to the mix of uses. Development plan is still the same as what the community supported in 2017.
Long term tax yield is still expected to be the same
Fortunately, the city is still able to cover debt service obligations for the new high school so no changes to the tax rate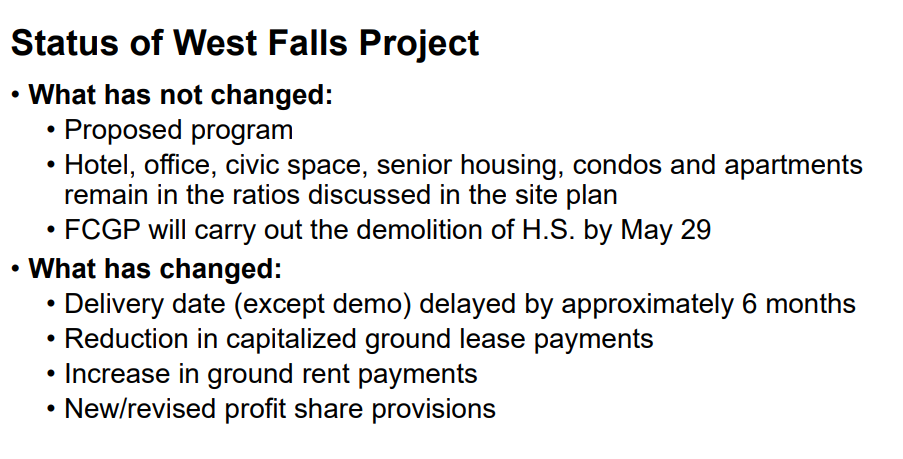 (3) Potpourri – both themed around walking and walkability
Join the CACT
We have several vacancies on the CACT (Citizens Advisory Committee on Transportation), which is one of our Citizen Boards and Commissions. Volunteering on a Board and Commission is a terrific, low effort way to dip your toes in civic engagement. The City Council and staff rely on our citizen boards for input and recommendations on various areas of policy – economic development, housing, parks, environment, arts, and in the case of CACT – transportation issues. Besides helping prioritize traffic calming efforts, the CACT also advocates for pedestrian safety, sidewalks, bike lanes, transit, parking issues – efforts that make our little city more walkable and accessible everyday. Other boards also have vacancies if this piques your interest.
Winter Walking Club
We could all use some endorphins to boost our mental and physical health this winter. Registered participants receive weekly raffle tickets for tracking their steps or miles, completing various challenges and finding the City Seal (literally a seal). The City Seal can be found in different business storefronts each week. A clue is given on the City Seal's whereabouts each week. The program does have a minimal fee to register, $5, and registration is done online.
What's Coming Up:
Current draft schedule of meetings and agenda items: https://fallschurch-va.granicus.com/MetaViewer.php?view_id=2&clip_id=1396&meta_id=98859
City Council Meetings start at 730 pm, unless otherwise specified. You can access the agenda and livestream here, including recordings of past meetings including virtual Board & Commission meetings: http://www.fallschurchva.gov/471/Watch-City-Council-Meetings